Navigation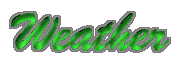 You can use these links to find out the most current local weather for the lakes and locations fished by the L.C.B.A. All the weather information is provided by The Weather Channel.

Barren River Lake
Cherokee Lake
Conley Bottom, Cumberland Lake
Dale Hollow, Cumberland Lake
Douglas Lake
Laurel Lake
Norris Lake
Wolf Creek, Cumberland Lake

Click here to view the phases of the moon. This is very handy for night fishing.